Where is Hai Van pass located?
Lying at the geographical boundary between Da Nang and Thua Thien Hue Province, standing about 500m above sea level, the 21-km long Hai Van is one of the longest and highest mountain passes in Viet Nam.
What are the options for passing the pass?
You have a number of options. You can rent a scooter or motorbike and drive over the mountain pass yourself. You can also do this with a tour including a guide or on the back of the bike with an Easy Rider. In addition, you can also cross the mountain pass with an open jeep or via a spectacular train journey along it.
Where do you start and where do you end?
If you come from the south, you start in Hoi An. If you come from the north, you start in Hue. If you want to shorten the route, you can also start or end in Da Nang.
Is it safe to drive the motorcycle over the mountain pass?
The roads are asphalted and in good condition. Due to a new tunnel there is little traffic on the pass itself, but driving in Vietnam is never without risks.
In addition to its picturesque landscapes and strenuous hillside treks with several hair-pin curves, the pass is known as an ideal spot for 'hunting for clouds' as it is shrouded in thick white clouds all year round. Such a hallmark makes this venue draw thousands of visitors, especially adventurous trekkers, year after year.
Hai Van is at its best at dawn and dusk as glimmering rays of early and late morning sunlight weave through each winding road halfway down the majestic pass.
Besides, if you are lucky enough to come to Hai Van on a cloudy day, you can see 'a sea of clouds', an overcast layer of clouds viewed from above, with a relatively uniform top which shows undulations of very different lengths resembling waves.
On beautiful days bestowed with pleasant weather, it is highly recommended to take an adventurous ride to the Hai Van Pass. This enables you to enjoy the feeling of hovering over the foggy slopes, admire an unforgettable panorama of the city from above and take beautiful photo of the Hai Van Quan (Hai Van Gate) national relic site dubbed as 'the world's most grandiose wonder' and 'ocean cloud gate', referring to the mists that rise from the sea, reducing visibility.
Hai Van Pass by motorbike
The most popular route among travelers going from Hue to Hoi An or vice versa is over the Hai Van Pass. You can rent a scooter at your departure point (Hue or Hoi An) and return it to your destination. Your luggage is brought to your destination by the rental company.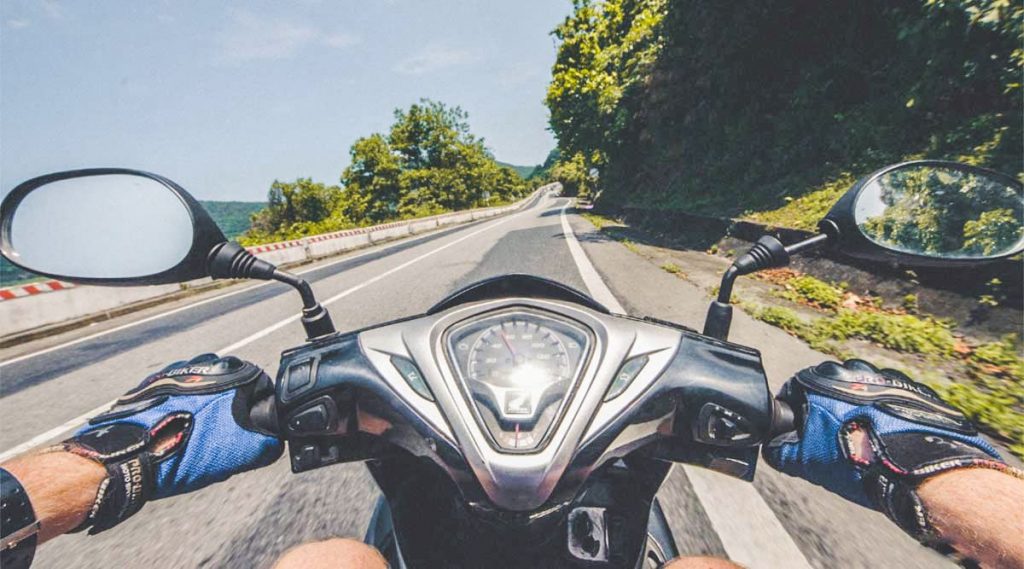 How long, how far is this trip?
The route is approximately 170 kilometers long and is easy to do in a day. At normal speed with no stops, it takes around 4-5 hours, so if you were to leave between 09:00 and 10:00 in the morning, you can easily reach your destination with a number of breaks before it gets dark. If you want to shorten the route, you can also start or end in Da Nang.
In terms of route it is best to drive along the coast from Hue. Follow main road 49 in the direction of Thuan An, eventually driving along a large lake to the highway 1A. We advise you not to take the motorway from the beginning. The other road is nicer and you avoid the big traffic.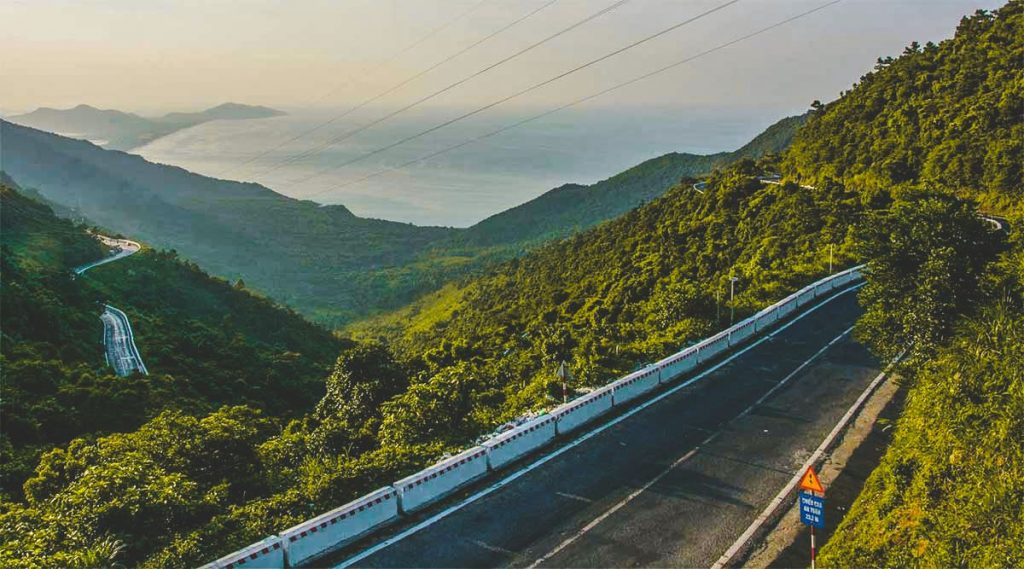 Tips:
Check the weather before you do this. You don't want to ride in the pouring rain.
It can be slightly colder at the top of the pass, so it is good to take something against the wind.
The pass is very safe, but always drive with focus and care; minor errors can have major consequences.
Although the route is very simple, it can be useful to use a navigation app such as Google Maps or Maps.me (for offline).
Motorbike route
Look below for our detailed motorbike route.
Where to stop en route
Elephant Stream
For the Hai van Pass you can stop at the Elephant Stream to take a refreshing dip in the water. If you are driving from Hoi An, this is a refreshing final stop before continuing to Hue.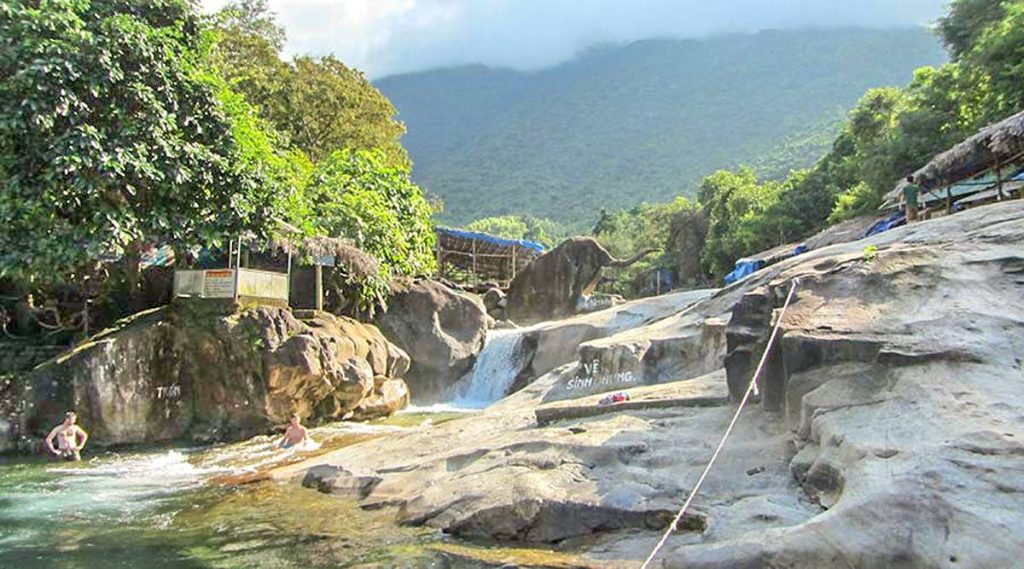 Lang Co beach
Afterwards there is a nice stop on Lang Co beach. This beach is very large and beautiful. If you have the time, you can also spend a day in this city relaxing on the beautiful beach. A night at the Lang Co beach resort and eating in one of the many seafood restaurants will complete your visit to this sleepy city.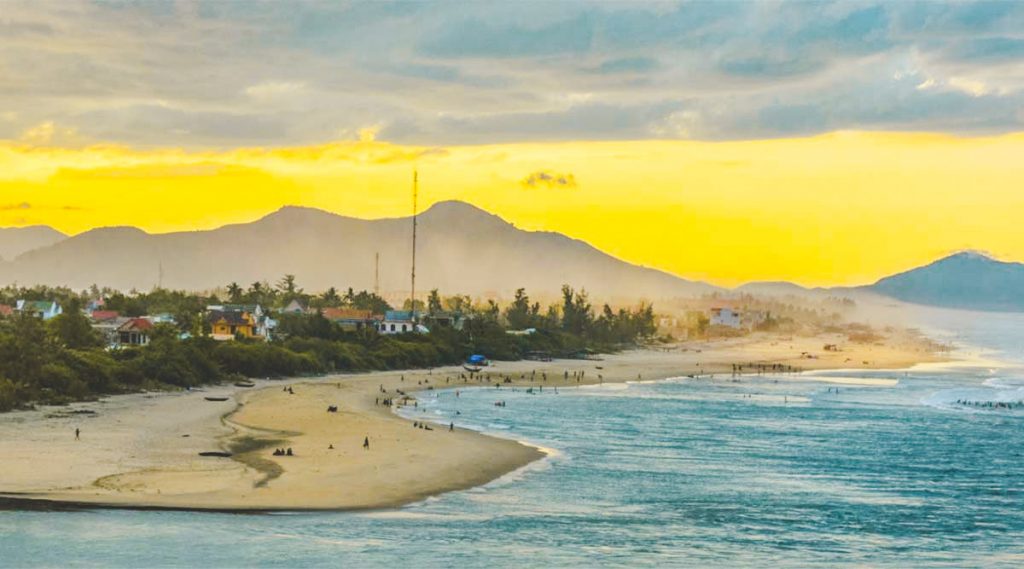 Then the road up the mountain pass starts. The pass itself is actually only a small part of your journey, so make sure you take the time for your stops. When you see a nice place to stop and enjoy the beautiful view and take a picture, take it. But on the pass itself we advise you to stop at least 3 places. The first place, coming from Hue, is soon after you cross the bridge from Lang Co and cross the track. From this place you have a great view over the beach of Lang Co and the mountains in the distance.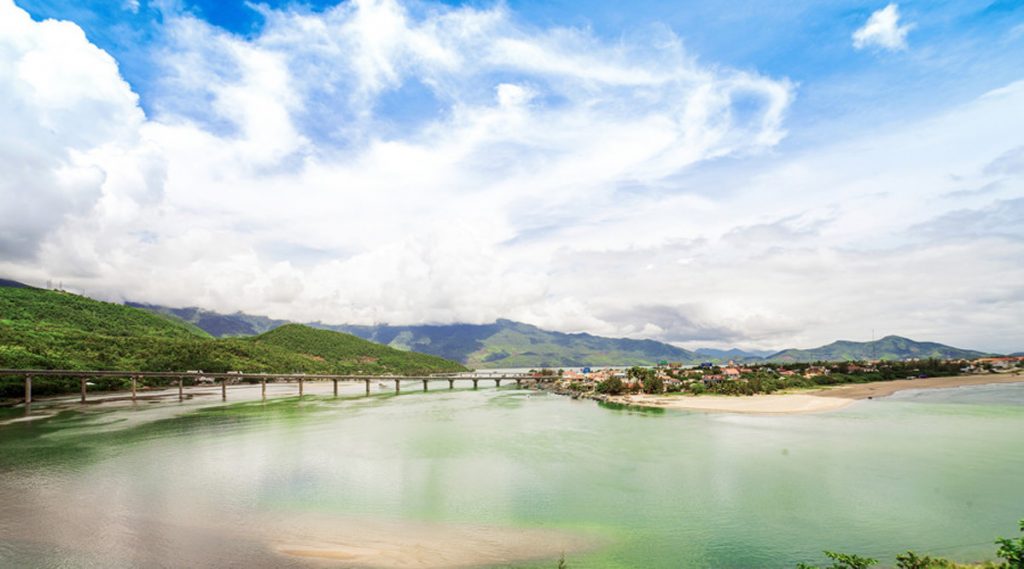 Top of Hai Van Pass
The second place is at the lookout point at the highest point of the pass (496 meters). Just like other strategic places in Vietnam, bunkers have also been built on the Hai Van Pass. At the top of the pass, near the brick gate that was built by Emperor Minh Mang in the 19th century, are gun towers used by the French, South Vietnamese and American troops during the wars.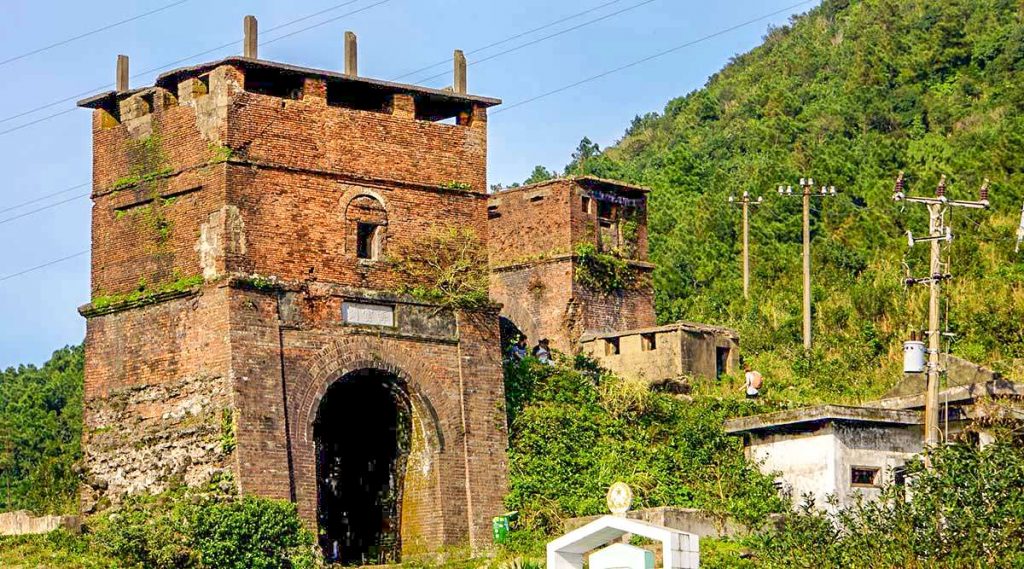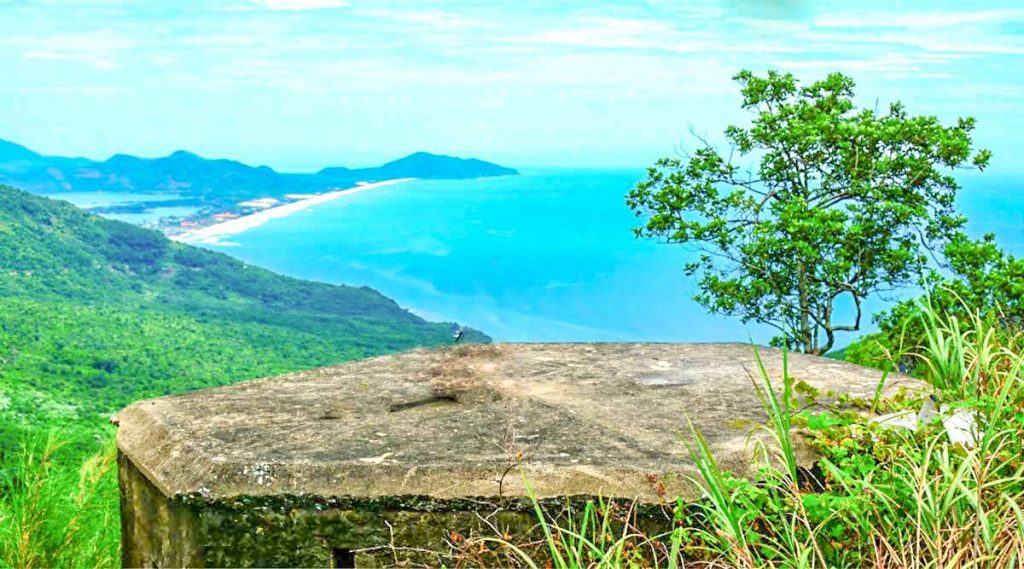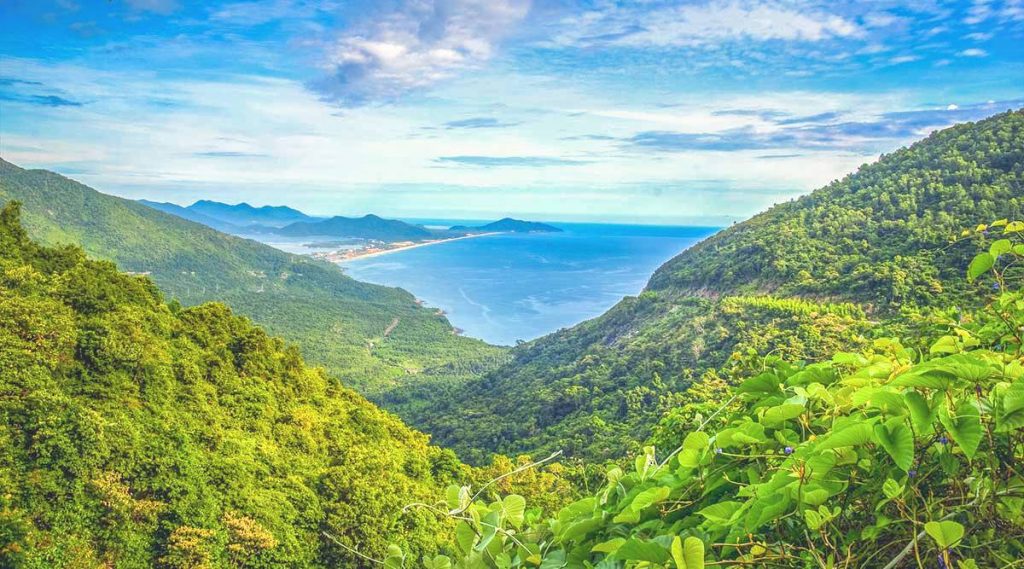 Then you have a nice descent to Da Nang. A nice stop is at a large rock on the left side of the road; hard to miss. From this rock you can take great pictures of the city of Da Nang, the deserted beaches below and the Son Tra peninsula in the distance.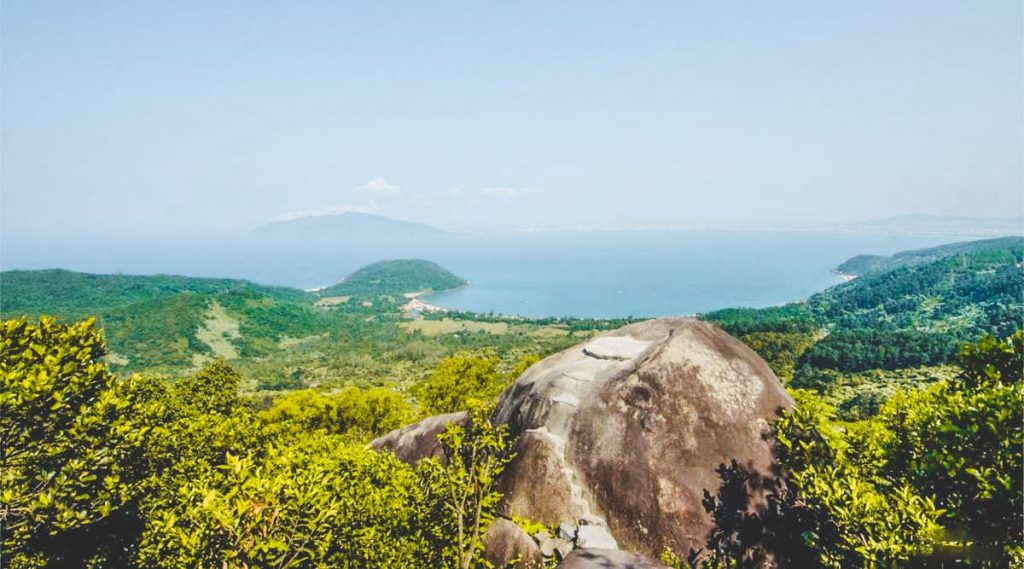 Then you enter Da Nang. When you have time you can choose to visit a beach in Da Nang. If you want to know more, read the Da Nang travel information to know what you can do in this city, see, eat and accommodation.
Then continue your way to Hoi An along the coast and along the Marble Mountains. You enter Hoi An via An Bang beach.
Rent a motorbike
If you stay in Da Nang, you can choose to rent a scooter or motorbike for a day. You then drive over Hai Van Pass and then return to Da Nang. If you stay in Hoi An or Hue you can do this, but it will take more time. If you want to do the full route, you must choose a one-way rental scooter. For example, you rent the scooter in Hoi An and you deliver the scooter in Hue. The rental company takes your luggage with you.