1. Enjoy coffee with a skyline view
One of my favorite things to do in Da Nang — sipping on a cup of coffee at Top floor – Avatar Da Nang Hotel while looking over the stunning city lights of Da Nang. If there's something Da Nang does right, it's showing off at night!
Pull up to the 7 Bridges Brewery on the river front and head upstairs for an epic view of the city skyline and majestic My Khe Beach. Give the cheap coffee a rest and spoil yourself with some tasty foods.
2. Walk across the Golden Hands Bridge at Ba Na Hills
Most people don't realize that the viral photo of the Golden Hands Bridge in Da Nang isn't just hanging out in the middle of Da Nang. It's actually an attraction in an amusement park, about 40 minutes outside of Da Nang.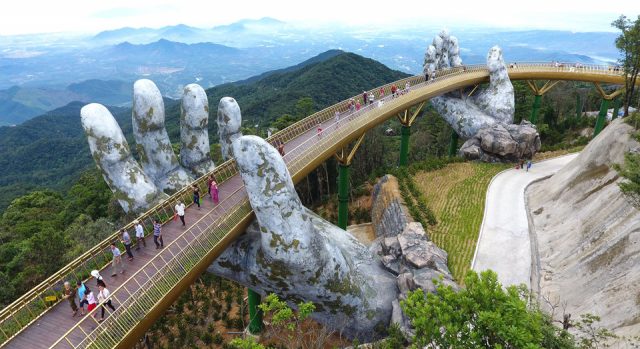 Take your own motorbike or hire a driver for the day and take the scenic trip to the foot of Ba Na Hills where you'll be wisped away in a cable car for one of the most interesting amusement park experiences of your life. Think French Eurovillage meets kitchy Asian entertainment. Needless to say, the entrance fee to the park includes food + beer vouchers and you can truly spend the entire day there! There's a reason Ba Na Hills is high on everyone's list of what to do in Da Nang!
Pro Tip
Go explore the amusement park/village first thing and then save the bridge for just before sunset — it's empty!
3. Explore the Marble Mountains
Probably one of the most popular Da Nang attractions — the Marble Mountains! Located about 20 minutes south of Vietnam's city center (towards Hoi An) are 5 majestic mountains made of (you guessed it) marble.
Each mountain has interesting caves, temples and and tunnels hidden within them. Great for photos and a fun Vietnamese cultural experience! Beat the crowds and get there early to start exploring.
4. Drink deliciously sweet coconut coffee
The best thing I've ever had in Da Nang — coconut freaking coffee.
Imagine a Starbucks frappuccino but way better. Rich, dark Vietnamese coffee blended with sweet coconut ice. Come to mama. My favorite in all of Da Nang is at Ka Cong Coffee, on the beachside of town. They serve the coconut ice and shot of Vietnamese coffee seperate with a side of toasted coconut. Buying my flight back ASAP.
5. Pay a visit to the Lady Buddha
The glorious Lady Buddha can be spotted at any point of the beach side of Da Nang. When making your list of what to do in Da Nang, make sure visiting Lady Buddha is at the top of your list!
Located on the beautiful Son Tra Mountain, Lady Buddha is the tallest buddha statue in Vietnam! The property also includes gardens, monkeys running around and the just as stunning Linh Ung Pagoda. It's an effortless trip to visit her and an epic view of the city from above!
6. Watch a sunrise on the beach
Vietnam is an early to rise nation and nothing proves this more than a jam packed beach at 4:45AM. What?
No seriously — tons of Vietnamese flock to the beach even before the run rises to get their daily dose of exercise in for the day. Zumba classes, meditation, swimming — all before you open your eyes.
See more Best places for enjoy sunrise in Da Nang
During your time in Da Nang, set your alarm and wake up to experience a beautiful sunrise over the ocean with 200+ of your closet friends. Heck, maybe join in on a Zumba beach class! Early morning endorphins!
7. Eat pho for breakfast
When in Vietnam…
…eat noodles for breakfast.
After you catch your sunrise, visit a local pho shop for your morning bowl of noodles. Unlike the west, pho is actually a breakfast food. Weird at first but you'll get used to it. Move over cold cereal, noodles are what's for breakfast.
8. Have a fancy night out at a Sky Bar
If you're looking for what to do in Da Nang at night — look no further than the handful of rooftop Sky Bars around the city. If the Vietnamese love anything more than Karaoke, it's a rooftop club. Pull out your dancing shoes and dig deep into your pockets and head over to Sky36 or Sky21 for a fancy night out in Da Nang!
9. Go snorkeling on the Cham Islands
Off the coast of Hoi An is a cluster of islands known as the Cham Islands — a hotspot for scuba and snorkeling in Vietnam!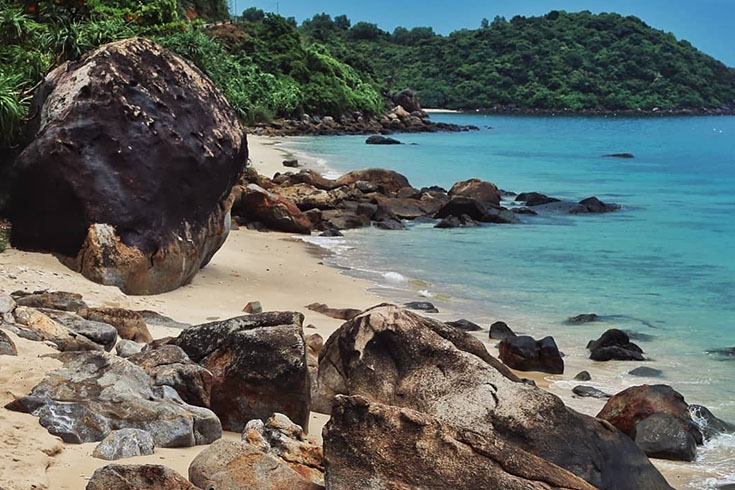 Hire a private tour and go for the day, as accomodation on the islands is limited and priced quite highly. The best time to visit Cham Islands is from March to August and isn't accessible during monsoon season!
10. Hang out on a rooftop pool
Live the lush life on top of one of Da Nang's many rooftop pools. A city full of hotels (with more being built every single day) means there's a whole lot of rooftop pools to be visited.
Be warned, this is Vietnam and businesses change their policies by the second (the rules are made up and the points don't matter — remember?). At the time I lived in Da Nang, both King's Finger and Queen's Finger hotels allowed outside guests to enjoy the rooftop pool by purchasing a voucher (that also goes towards food/drink).
You can visit the A La Carte Rooftop Pool but unfortunately they won't let outside guests inthe pool, just around it. I've heard of some people sneaking onto Adamo's Rooftop Pool — some with success, others without. Just go for Queen or King's Finger and cross your fingers they don't change their policy.
11. Eat the best Banh Xeo in Da Nang
Da Nang food is no joke — especially the banh xeo! The dish translates to "sizzling pancake" and after giving it a try, you're going to wish you ate it sooner. If you're needing more ideas of what to do in Da Nang – make sure eating banh xeo every night is on the list.
Rice flour, sizzled over hot oil filled with pork, shrimp and bean sprouts — folded together like an omlette. Served with rice paper, fresh herbs, lettuce, peanut sauce, mango and cucumber, rolled to texture and taste perfection. I've never had anything like it and quite honestly I miss it every single day.
Seriously — I've yet to meet anyone who isn't completely obsessed with the dish. Try it at Bánh Xèo Ba Duong — the best banh xeo in Da Nang!
12. Watch the Dragon Bridge Breath Fire
You read that right. Not only is the Da Nang Dragon Bridge a stunning architectural feat — it also functions as a real life dragon.
Well, sometimes. The dragon comes alive every Saturday and Sunday night at 9PM sharp. Watch from the riverfront or ventre up and watch from the bridge for a closeup and fiery experience!
13. Take a day trip to Hue — the Imperial City
If you're basing yourself from Da Nang and looking for a day trip, head north to Hue! For the quickest way to explore Hue in a day, wake up early in the morning and leave from Da Nang through the Hai Van Pass. The drive is around 3 hours.
Hue was the capital city of Vietnam from 1802-1945 and holds a lot of the country's historical city. There's more to see here than a day tip but if you're short on time while traveling Vietnam, it's totally doable.
14. Take a day Trip to Hoi An — The Lantern City
Most people's favorite city in Vietnam and with good reason. One visit to Hoi An and you'll understand the hype. It's charming, feels like a fictional storybook town and it's lively!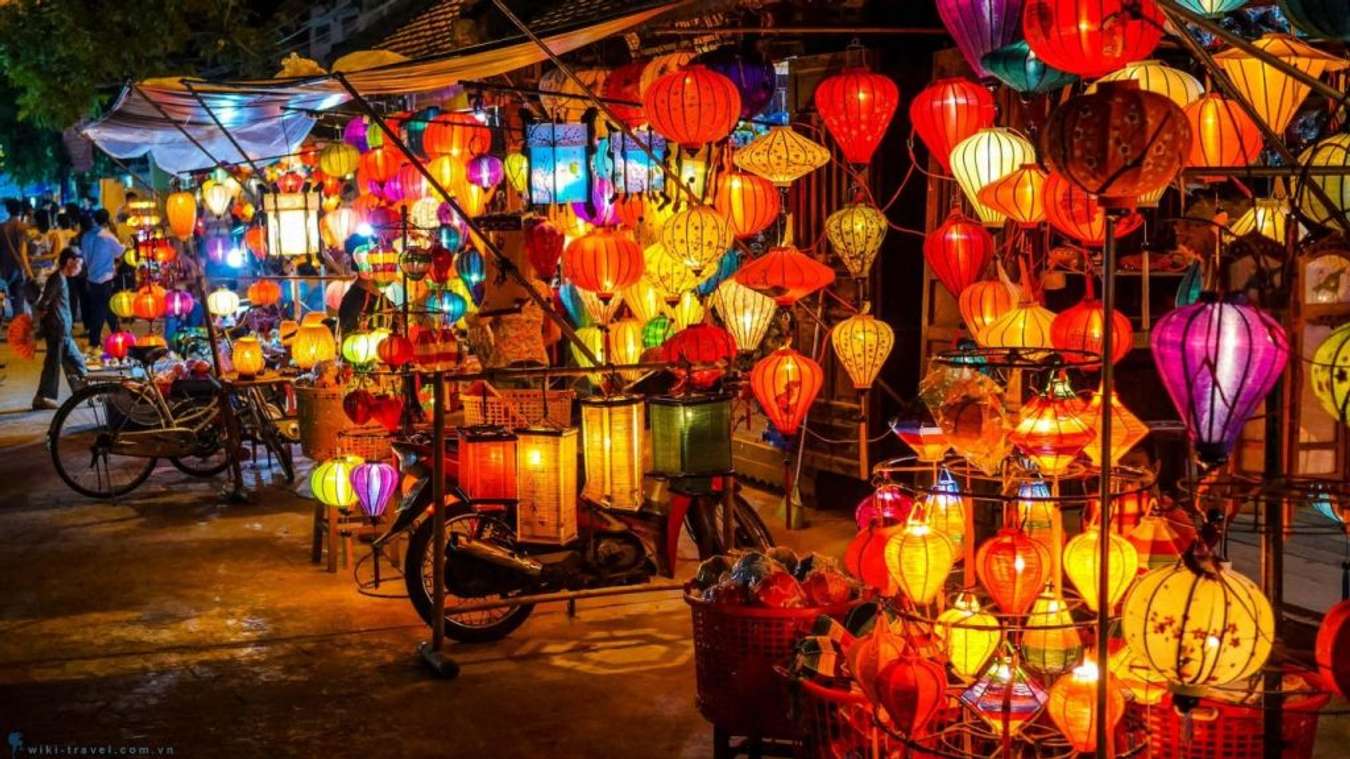 Only a 30-40 minute drive south means Hoi An is a perfect day trip from Da Nang! Famous for handmade, perfectly tailored clothes and nightlife, Hoi An makes for a perfect day of shopping, eating and exploring the Old Town!
15. Spend the day at a secret beach
Spoiler alert: Son Tra Mountain is full of trails that lead to secret beaches. If you're looking for adventure things to do in Da Nang, going on the secret beach hunt is perfect for you!
Honestly, the main beaches aren't even that busy during the day but it's still fun to go on a treasure hunt. My favorite "secret beach" is located at the Tien Sa Lodge — but keep it between us.
16. Go ice-skating at VinCom Plaza
Ice-skating and Vietnam probably weren't what you put together when planning your trip to Vietnam. Well it's here and it's damn fun.
The huge Vincom Plaza on the beach side of the city is a shopping and entertainment center. Complete with a grocery store, restaurants and a movie theatre — a perfect place to hang out if the weather outside takes a turn. Lace up your skates and take a spin on the ice — perfect for all ages!
17. Take in the views on the Hai Van Pass
Made famous by Top Gear in 2008 and deemed one of the most beautiful coastal drives in the world, driving the Hai Van Pass is the ultimate thing to do in Da Nang.
Make sure you have a reliable motorbike, a tank full of gas and confidence with driving. I took it on only a week after I learned to drive and was honestly scared shitless the entire time but it was one of my best days in Vietnam.
The drive from Da Nang city to the entrance of Hai Van Pass is about 20-30 minutes and the scenic drive is about 45 minutes-1 hour to the rest stop. You'll want to stop and take a lot of pictures so the trip takes as short or long as you want!
18. Unleash your inner Picasso at Paint Night
One of the local bars in Da Nang, N Pub, hosts a weekly paint night every Tuesday evening starting at 7PM.
For 100,000 VND, you get a canvas and endless amounts of paint. This isn't a Sip-n-paint style class — no teacher or certain thing you have to paint. Order a beer and get to painting your masterpiece!
19. Drive around Son Tra (Monkey Mountain)
Turning back north for the next Da Nang attraction — Son Tra Mountain! Often called "Monkey Mountain" this scenic peninsula makes for a fun and scenic afternoon of driving a motorbike. With lush green vegetation on one side and the sparkling blue ocean on the other, it makes for a great day of taking photos.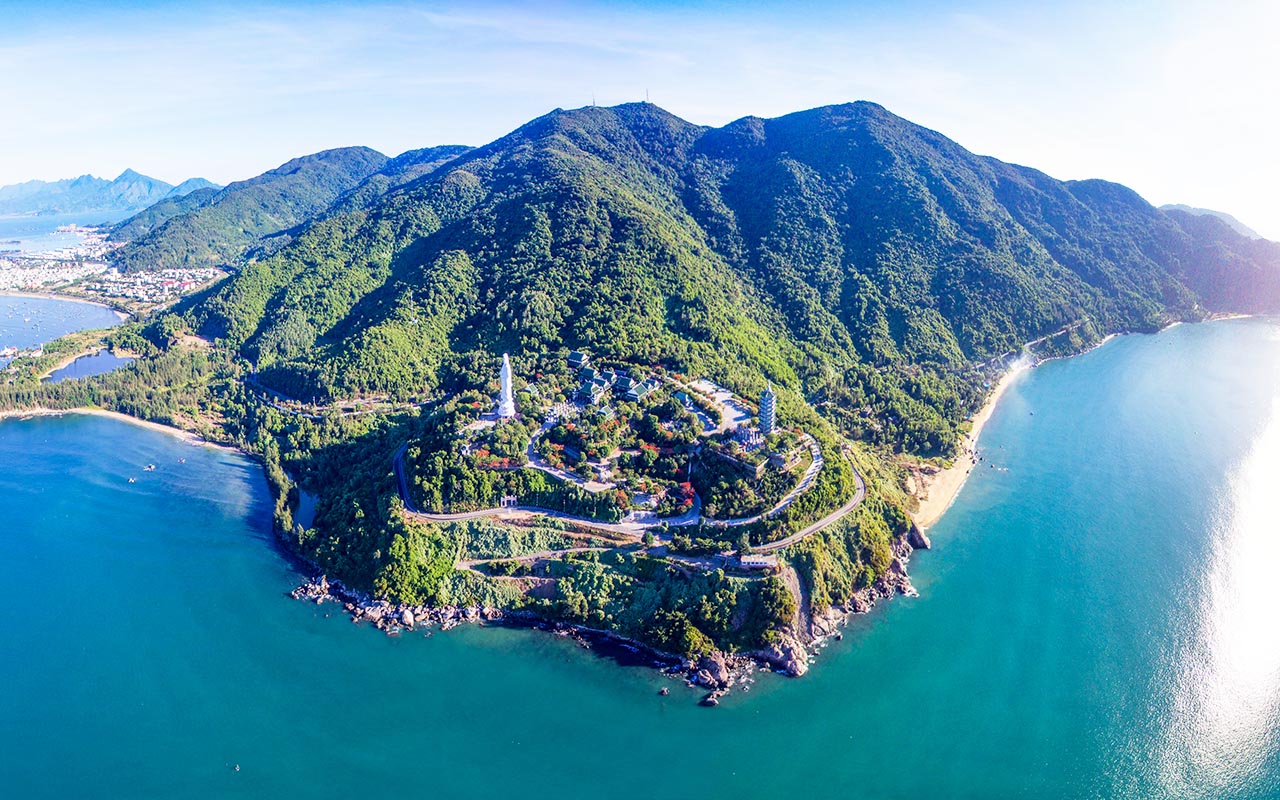 Pull over to take photos, find yourself getting lost in the different hidden trails or spot the very rare and shy Red-Shanked Doucs (one of the most colorful primates in the world)!
20. Sing your heart out at an open mic night
The expat bars in the An Thuong neighborhood are known to host an open mic from time to time. If you're visiting in Da Nang and looking for things to do at night — check out the Facebook pages for Crazy Cat Coffee Pub, Heaven Pub or Filling Station to see if they have any coming up!
21. Try a creamy avocado coffee!
Don't knock it 'til you tried it. With Vietnam's obsession with blending things with coffee (egg, condensed milk, coconut ice…) it only makes sense that avocado was next.
Make a trip straight to Coffee Trinh at 173 Chau Thi Vinh Te for a creamy and sweet afternoon treat.
22. Soak up the sun at the beautiful My Khe beach
I loved spending my entire mornings and afternoons sitting under a palm tree on this famous Da Nang beach. With the entire city being on the edge of the ocean, Da Nang's got some serious beach space. A long stretch of beach means you've got plenty of options to choose from.
The sand is soft, the water is a green/blue on a bright sunny day and the currents are mild enough for swimming. There's also the option to go parasailing or jetskiing!
23. Shop 'til ya drop at Han Market
If you didn't barter at a Vietnamese market, did you even go to Vietnam?
Visit the bustling heart of Da Nang's city center and see what you can find. A local fresh market full of veggies and meat turns into a 2-story shopping center full of clothing shops, shoe stalls, suitcase vendors and more. Get ready to bargain — nothing has a price-tag.
24. Go for a Ferris wheel or roller coaster ride!
The Da Nang skyline isn't complete without the brightly lit ferris wheel at Asia Park. Owned by the same company as Ba Na Hills — Asia Park is an animated amusement park, only a few minutes from the city center.
Perfect for the whole family, Asia Park has roller coasters, dining options, gardens to wander in and plenty of attractions to keep anyone entertained for an afternoon!
25. Take photos in front of the pink Da Nang Cathedral
An interesting contrast right in the middle of Da Nang's metropolitan city center: a pepto bismol pink church, framed by towering glass skyscrapers.
Also known as "The Rooster Church", the church was built in 1923 and is one of the most unique buildings in the entire city!
26. Take a guided local Da Nang food tour
So much to eat, so little time.
Da Nang food deserves its own medal and golden stars — the freaking best. If you're short on time and can't go and find the good spots on your own, check out the Funtastic Food Tour so try all the best Da Nang restaurants and dishes in one jam-packed tour! Each tour covers 5 stops to try out 10 local specialties of Da Nang. I'm salivating.
27. Try avocado & coconut ice cream at the My An Market
Oh, avocado we meet again.
Vietnam's heat is no joke, so let's beat it with the delicious Kem Bo (avocado ice cream) at My An market, on the beachside of town! The busiest food stall in the entire market is never empty. Full of university students and sweltering expats waiting for their ice cream fix. The incredible ladies serve a glass with mashed avocado topped with homemade coconut ice cream, topped with toasted coconut. De-freaking-lish.
28. Get an incredible massage at Herbal Spa
A place I discovered only weeks before I left Da Nang — Herbal Spa. Make a reservation here for the best massage in Da Nang. They're gifted, it smells minty fresh and they truly know how to make sure you have the best massage. There's lots of massage parlors to choose from in Da Nang — just believe me when I say Herbal Spa is as good as it gets.
29. Go souvenir shopping at Da Nang Souvenirs & Cafe
Looking for unique souvenirs to bring back home? Look no further than Da Nang Souvenirs & Cafe. The largest selection of souvenirs in Da Nang, complete with artsy journals, cute magnets and canvas totes — it's legit adorable. It also doubles as one of my favorite cafes to work from as a digital nomad!
30. Spoil yourself with a hearty western breakfast
Sometimes your belly wants to put a pause on the noodles for breakfast. When you can't stomach another bowl of pho (I don't think that's possible) — visit one of the best breakfast spots in Da Nang for your westen breakfast fix. Pancakes, bacon, eggs — oh my!
31. Feel the Vietnamese coffee buzz
Vietnamese coffee isn't like normal coffee — it's potent and a true kick in the ass. I'm not a scientist but I'm pretty sure the caffeine in 1 Vietnamese coffee equals 3 espresso based drinks. Pay a visit to any local Vietnamese coffee shop and order up a Ca Phe Sua Da (iced Vietnamese coffee with condensed milk) and feel the buzz run through your veins.
32. Drink a boozy tropical cocktail at Wanderlust Coffee + Cocktail Bar
Rustic, exposed-brick, electic vibes are what this trendy cocktail bar is serving up. A coffee shop by day and a cocktail bar at night — order up a speciality cocktail and chat the night away. Wanderlust is perfect for a lowkey evening in Da Nang!
33. Visit the My Son Sanctuary — The Angkor Wat of Vietnam
Only about an hour drive from Da Nang exists the My Son Ruins —a UNESCO World Heritage Site and religious and political capital of the Champa Kingdom between the 4th and 13th centuries and the spiritual origins are of Indian Hinduism.
Explore the ruins early in the morning to avoid the scorching heat and crowds.
34. Experience Da Nang's 3D Art Museum
Experimental and 3D museums are popping up all over the place and Da Nang has joined in on the trend at Art In Paradise. Check out all Museum in Danang here for more choices
Open 7 days a week and perfect for all ages, experience the 3D and optical illusions that doubles as a fun day out and an opportunity for great photos for your 'gram!
35. Fill up on a bowl of Mi Quang
Another noodles for breakfast dish — the central Vietnamese dish of Mi Quang. This delicious Da Nang food dish consists of flat noodles with an array of herbs tossed together in a small amount of broth topped with prawn, pork, quail egg and toasted peanuts. Mmmmm it's so filling and a great alternative to the other beloved breakfast dish, pho!
36. Participate in a beach clean up
If you've got any sort of eco conscious mind, you know that we've got a plastic problem in our oceans. Asia's got it bad with their love of single-use plastic. While visiting Da Nang, check the Facebook page for the local organization Precious Plastic to see if they're hosting a beach clean-up while you're in the area.
37. Enjoy dinner at the Night Market
One of Da Nang's newest additions is the An Thuong Night Market located right in the middle of the expat area. The night market consists of several food stalls that serve dishes such as kebabs, hamburgers, tacos, Vietnamese and Thai dishes. It's the perfect place for dinner when you can't decide what you want!
38. Take a yoga class at My Khe Yoga
A Da Nang beach holiday isn't complete without getting your zen on. If you're looking for an excellent yoga studio, drop in at My Khe Yoga to take part in their range of classes.
39. Get lost in an artsy alleyway
New colorful walls are lining the alleyway of No. 75 on Nguyen Van Linh Street in Hai Chau District. These vibrant walls have been painted by local artists and have floor to ceiling murals of traditional Vietnamese scenes and even the beautiful and shy Red-Shanked Doucs are painted on the walls. Exploring this artsy alleyway is one of the most unique things to do while visiting Da Nang since it's still so new!
40. Beat out the reining Taco King or Queen at this beloved Asian fusion taco spot
Is a Texan promoting a taco joint that sells "Asian fusion" taco? Yes — and they're damn good.
With two locations in Da Nang and one in Hoi An — Taco Ngon is changing the taco game. Choose your base — fried chicken, tofu, pulled pork, fish or french fries then top it with your choice of wasabi coleslaw, BBQ tamarind sauce, yogurt salsa or ginger lime.
Eat more tacos than the reigning taco champ in one sitting and win bragging rights, get your photo on their wall and win free tacos every day (until someone else beats you out). Are you up for the challenge?